So as mentioned yesterday after I was having such a good time, my skin had to perk up and remind me that I'm not out of the woods just yet. Eczema Herpeticum round number 8 (this time it is number 8 because
August's bout
turned out to be
MRSA
) has decided to renounce itself.
It started on Sunday evening when I got in from work, just in the outer corner of my eye. By yesterday morning my eye had gunked itself shut (mmm!) and I was left with an unsightly pink and bloodshot eye. The fact it had done that filled me with dread as I knew instinctively that it was definitely herpeticum that I was dealing with. I had my usual shower around lunch time and as the skin on my face was particularly uncomfortable and dry I decided to moisturise the rest of my face, completely avoiding my eye area. Of course that didn't seem to matter in the slightest as the moisturiser then acted as a catalyst of which to spread the bloody disease across all regions of my face. I'm my own worst enemy.
Poor gammy eye
I decided to go in to work anyway as it would take my mind off the widespread tingling sensations and volts of pain that come with its territory, regardless of the fact I knew I looked disgusting and children would cry and mother's would scream in sheer horror. Obviously that didn't happen and no one said anything or flinched away from me so that boosted my morale somewhat. As it was nearing the end of my shift I looked at myself in a mirror (oh vanity!) and saw that the pustules were more widespread and oozing fluid so that it looked as though I was sweating heavily. Simply delicious!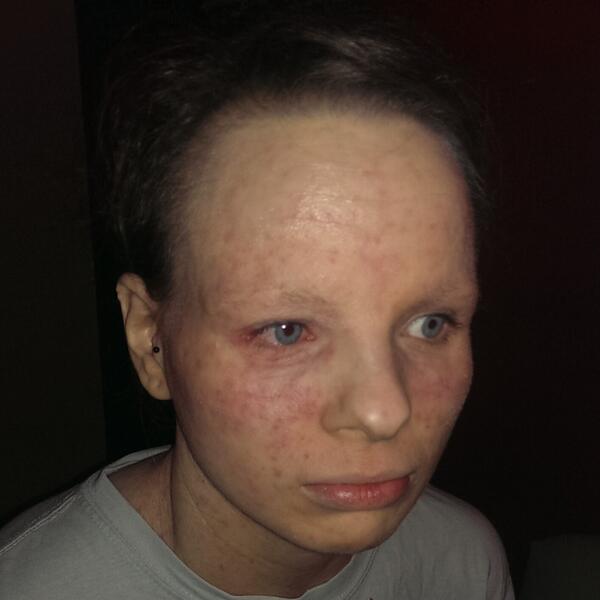 Oh, I'm so attractive with my gammy eye!
When I got home I immediately went into the bathroom and began to dab at the oozing pustules with tissue, making sure to use a new section of tissue every time to avoid the spread. This seemed to work a treat as today although my eye was still gunked shut and my face is drier than dry the pustules are dessicated so are unable to spread further hurrah!
Luckily on Sunday night when I had an inkling that it could be herpeticum I sought out some left over 800mg Aciclovir tablets from my last bout and was able to take those. I have since been to visit my GP this morning to get a proper lot in which I can finish the course.
Go away herpeticum you're not welcome!